Top Ten Great Chinese Movies For Understand Chinese Culture and Its Cinematography
1. Hero (??)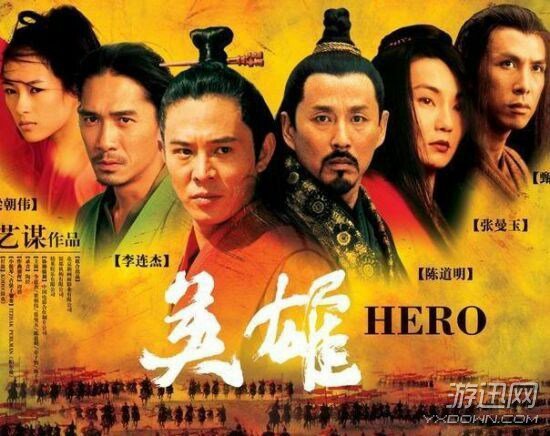 For some viewers, Chinese Director Zhang Yimou's Rashomon-like bid for an Oscar could come across as somewhat too desperate to impress. Nonetheless, Hero is still hands-down one of the most visually stunning Chinese movies filmed in recent years. The entire extravaganza is also drenched with color metaphors and full of thrilling martial arts duels.

The story itself revolves around an attempted assassination of Qin Shihuang, the notorious and brutal first emperor of China. Following the trend of newer Chinese historical movies, Hero then tries to justify the notorious brutality of the first emperor by explaining such acts were necessary to ensure China's unification and growth as an empire. Simultaneously, the movie also hints at the various political philosophies in the contest during that era of Chinese imperial history, giving much food for thought. If you enjoy thoughtful, enigmatic storytelling, as well as eye-popping Chinese backdrops, Hero is, without a doubt, one of the most remarkable Chinese movies to watch. Needless to say, it is also an invaluable tutorial in cinematic visual communication for students of that discipline.





2. The Last Emperor
Bernardo Bertolucci's 1987 masterpiece isn't a Chinese production. Some Chinese audiences also hated it during its release, mainly because it was directed by a European and contained several contentious scenes such as a young Puyi suckling his nanny.

Having watched this epic production numerous times and read about Puyi's life, though, I can confidently say the movie is, overall, a most reasonable interpretation of the last emperor's life. I doubt anyone, not even his wives, ever understood how Puyi honestly thought or felt. Bertolucci might have been a little too blunt in his expression, but it's only fair to say he's neither wrong nor deliberately provocative.

Historical details aside, The Last Emperor is a visual documentation of the Forbidden City. It doesn't delve into the history of the palace, but there are numerous extended shots, as well as the implicit message that the Forbidden City was, in truth, the world's largest prison for those doomed to be emperor. Today, tourists could visit the palace grounds and be at a noisy restaurant an hour later. Yet, just over a century ago, this was the only place the disgruntled teenage ruler of China could ever hope to stroll. The Last Emperor constantly reiterates this grim fact, then explores the sheer irony of Puyi craving to return once liberated from his ancestral prison. Simply put, this intriguing contrast makes the movie a must-watch for anyone curious about pre-modern Chinese history and imperial life. The unforgettable soundtrack and John Lone's depiction of the conflicted ruler are additional reasons you should not miss this splendid production.

Red Cliff is based on one of the most significant battles in Chinese history.
Red Cliff is based on one of the most significant battles in Chinese history.

3. Red Cliff
Red Cliff is based on one of the most significant battles in Chinese history, which led to the Three Kingdoms (AD 220 to 280). Split into two parts and featuring tens of historical characters, this Chinese movie could be confusing at times, especially to viewers unused to Chinese names. That said, it is still a useful introduction for those curious about Three Kingdoms history. It is undoubtedly also thrilling and full of numerous awe-inspiring battle scenes.

During an interview, director John Woo admitted the movie is only 50 percent factual. For this reason, Red Cliff should not, in any way, be regarded as a history lesson; there are other far more accurate depictions. As a cultural insight into the Chinese mentality, however, the movie is an invaluable resource. Why are Liu Bei and his sworn brothers still regarded by the Chinese as embodiments of honor? Why is Shu strategist Zhuge Liang a synonym for resourcefulness and wittiness? Knowing the reasons would benefit anyone preparing for any interaction with the Chinese people, or just curious about Chinese culture in general. There is also, of course, John Woo's distinctive cinematic style. Lots of memorable and evocative combat posturing, Loads of tragically heroic moments too.

The world of Chinese opera is exotic and bewitching, with its fair share of ugly practices too.

The world of Chinese opera is exotic.



4.

Better Days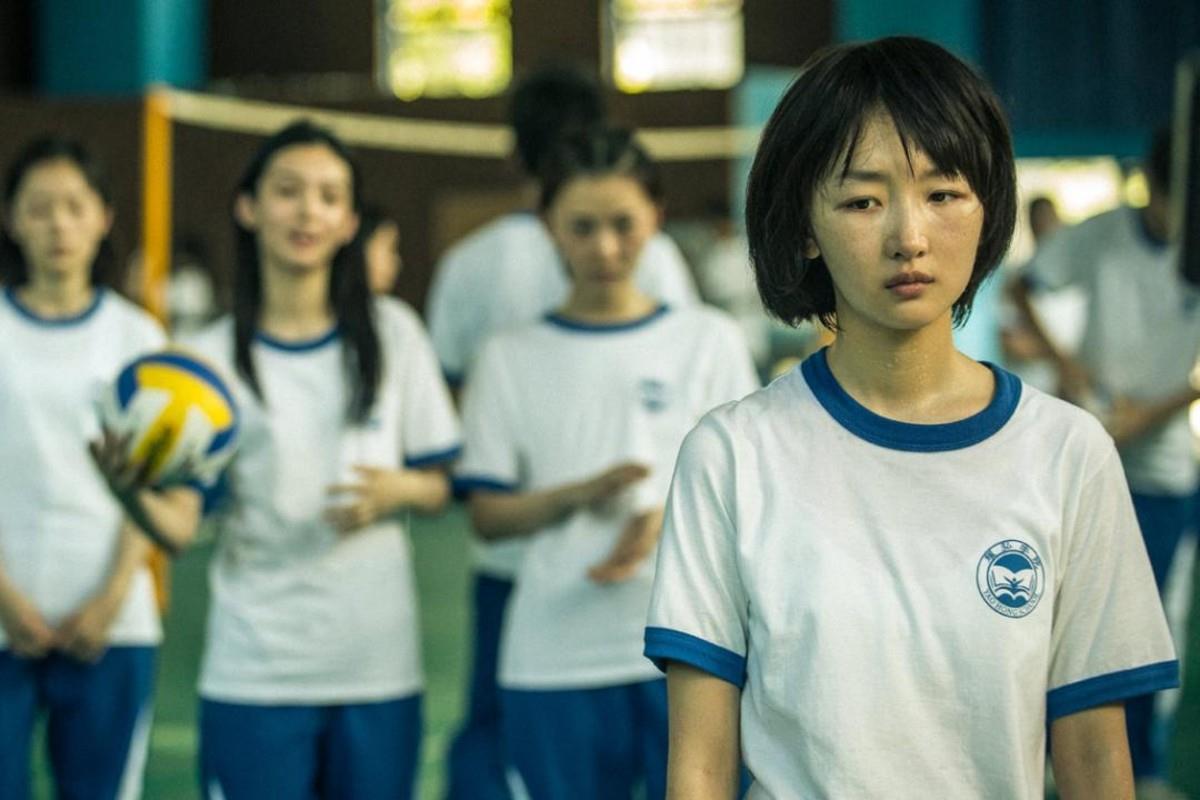 A bullied high school student and a small-time criminal become the prime suspects in the murder of a teenage girl who turns out to be the student's nemesis for the state Gaokao exam.



We round off our list of 2019's best Chinese movies with a film that almost didn't make it to the big screen this year—

Better Days

. The film features

Zhou Dongyu

and

TFBoys

member Jackson Yee play a bullied schoolgirl (Chen Nian) and high school dropout (Xiao Bei). After a chance encounter, the two form an unlikely bond as Xiao Bei helps protect Chen Nian from her bullies, and Chen Nian begins to give Xiao Bei a reason to live.
5.The Wandering Earth
When the sun dies out, the people of Earth build giant thrusters on moving the planet out of orbit and sailing to a new star system. After 2,500 years, young people continue the fight for everyone's survival.
Our second best Chinese movie of 2019 is the sci-fi movie

The Wandering Earth

.

Wolf Warrior

star Wu Jing headlined the cast, leading to

concerns from some Chinese netizens

that

The Wandering Earth

might turn into a jingoistic propaganda movie. Those fears were quickly allayed. Not only was

The Wandering Earth

visually breathtaking, but also the screenwriting and acting were superb.
The Wandering

Earth

is set in a not-so-distant future where the sun begins to expand, threatening to swallow Earth's Earth. In response, world governments unite to enact a plan to move the planet to a new solar system (hence the movie). Apparently, this plan wasn't perfect, because Earth falls into the gravity well of Jupiter on its way out, and a group of (predominantly Chinese) technicians and scientists band together to save the day.
6. The Last Sunrise
2019 seems to be the breakthrough year for science fiction in Chinese cinema, a genre that has largely remained untapped in the country. Earlier this year, Chinese studios released
The Wandering Earth

,
the first sci-fi blockbuster in Chinese cinematic history with a budget of US$50 million.
In contrast,
Last Sunrise
was made on a budget of under US$250,000 and shot in a total of 14 days. For a genre defined by imaginative high-tech machinery and futuristic set pieces, a six-figure account appears incredibly limiting. However, Director Wen Ren deftly utilizes every ounce of resources to deliver an extraordinarily thoughtful and touching narrative about two people trying to survive the end of the world. It may not be the colorful spectacle that exemplifies most sci-fi films. Still, the
Last Sunrise
finds its own balance and shows the range of storytelling possible in China's burgeoning science fiction landscape.
7.. Farewell My Concubine
The decades before the Second World War were tragic and tumultuous for China, with the entire country strangled by western imperialism, internal strife, and remnants of appalling medieval beliefs. This 1993 production, which earned an Oscar nomination, highlights one of the worst tragedies of those times. It tells the story of boys trained/forced to play feminine roles (?? human) roles in Chinese opera. By following the life of one such character, the lifelong identity conflicts that result are starkly, hauntingly, laid bare.

Conditioned homosexuality is heavy in this movie, though worry not, like most Chinese movies, Farewell My Concubine has no explicit homosexual scenes. Instead, the story revolves around the haplessness of the protagonists as they live through different historical periods, always as victims, always defenseless against the powerful and unscrupulous, and still lacking the courage to retaliate too. Of note, the title itself is a famous scene in Chinese opera, one involving the final hours of Xiangyu (??). This Chu general committed suicide after losing to the founding emperor of the Han Dynasty. It is an obvious metaphor for the fate of the protagonists. All are characters doomed to drown in the unforgiving tides of time. All deserve your sympathy, and at the same time, your scorn too.

A movie about what happens when you suffer that "cut" a little too late.
A movie about what happens when you suffer that "cut" a little too late.

8.. Lai Shi, China's Last Eunuch
A phenomenon in Chinese history is that of eunuchs often dominating the imperial court. From the Qin Dynasty right till the final days of the Qing Dynasty, numerous eunuchs were manipulating imperial politics, if not downright seizing power. Little wonder, therefore, that the Chinese terms for eunuchs, taijian and huanguan, still carry extremely negative connotations in spoken Mandarin. These connotations include being sycophantic, scheming, or downright spiteful.

This 1988 Hong Kong production, however, paints an entirely different picture from other Chinese movies about these emasculated ones, one in which eunuchs are depicted as hapless victims of a brutally feudalistic society. In doing so, the film tells a greater truth, which is the fact that for every emperor-controlling, powerful "gong," there were thousands of others who spent their entire lives in servitude and humiliation.

Simultaneously, the opening chapter also reveals one of the most horrific phenomena in Chinese history. Ghastly as the entry requirement was, there were times when many Chinese peasants dreamed about their sons becoming imperial eunuchs. For them, it was a surefire way to escape poverty, with few giving any serious thought to what actually happens within the imperial court. The subsequent tragedy then becomes a spiraling trap none could hope to escape from.

Warning! The uncensored version has a pretty gruesome scene in the first half-hour—one involving a minor.

Note: This movie is based on a novel written by Hong Kong writer Ni Kuang. There is another novel on the same eunuch by Chinese writer Jia Yinghua, for which there is an English translation. A story talks about Swordsman 1990, one of the best Chinese movies to watch as an introduction to Wuxia.

9. Swordsman 1990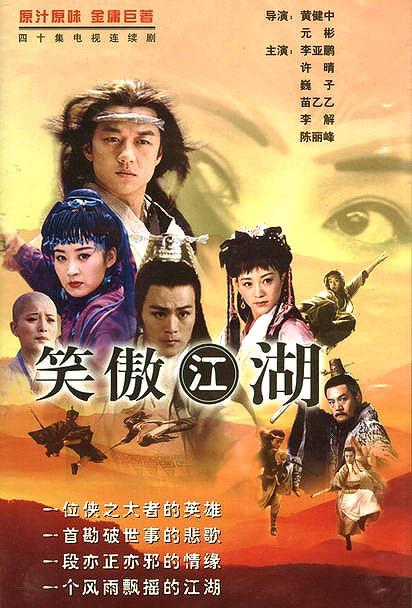 The dazzling world of sword fighting and spectacular martial arts, i.e., Wuxia, is an integral part of modern Chinese culture. Hong Kong alone has produced hundreds of Wuxia movies and television series since the 1960s. The problem, though, for the uninitiated, which Wuxia movie is a great introduction? Which would be a suitable watch for those fresh to concepts of Chinese chivalry and honor?

I suggest this Hong Kong production from the 90s, which was released at the start of a brief revival of Wuxia films in Chinese cinemas. Based on excerpts from Wuxia writer Jin Yong's most political novel, The Smiling Proud Wanderer, Swordsman 1990 is neither too dated in its effects nor too convoluted in its story – in fact,
the results have aged well and look fantastic even today.
Simultaneously, the movie is also a good summary of what to expect from a Wuxia movie, these elements being incredible acrobatics, complicated conspiracies for power, and honor in the face of deadly odds. Watch it and if you enjoyed the experience, continue on to the hundreds of other Wuxia films made over the last half a century. There is a rich and bewitching world within. Swordsman 1990 itself has two fascinating if somewhat over-the-top sequels.
Explore the Chinese world of Xianxia, or medieval fantasy adventures, with Zu Warriors from the Magic Mountain.
Explore the Chinese world of Xianxia, or medieval fantasy adventures, with Zu Warriors from the Magic Mountain.
10. Zu Warriors from the Magic Mountain
Hong Kong director Tsui Hark's 1983 supernatural adventure is notable for two things.

It was groundbreaking with its use of special effects.
It also revitalized a genre that was then much overshadowed by Wuxia. Zu Warriors from the Magic Mountain effectively reintroduced Chinese audiences to the Xianxia (??) genre.
To explain, Xianxia is much like Wuxia or martial arts films, except magic is involved. Xianxia also incorporates a significant trope from the classic Chinese novel, Investiture of the Gods, which is that of protagonists wielding distinctive artifacts of power. These artifacts could be traditional weapons like swords, or more exotic items like mirrors, parasols, and spindles. Very often, it is these relics that are the most fascinating to watch. A Xianxia fan might forget the protagonist's name, but it is unlikely he would forget the name of the protagonist's artifact.

Coming back to the movie, why is Zu Warriors from the Magic Mountain a must-watch for anyone interested in Chinese movies or China? Firstly, the magic mountain in the title refers to the mountain ranges of Sichuan, a remote area rich with myths and oriental legends. Secondly, Xianxia draws heavily from Buddhism and Taoism, with names of artifacts often using exotic religious terminology.

To put it in another way, this is one of the most fascinating and awesome Chinese movies to watch if you are seeking to enter the fascinating world of Chinese mythical fiction. Best of all, if you like it, there are many Xianxia games, novels, and movies for you to move onto. Many of these are available online, including translated versions. Many Xianxia games are also known as free smartphone apps.