These 10 romantic Chinese dramas will make you fall in love all over again. We've narrowed our pick down to only the best – from beautiful characters to addicting storyline, you're bound to be entertained from the moment you start watching them!
11. Well Intended Love 2 (2020)
Original cast Xu Kaicheng, Wang Shuang, and Ian Yi (from pop group SpeXial) reunite this sexy sequel to the hit series Well Intended Love! When paparazzi catch the young president of a multinational company (Xu Kaicheng) in a compromising situation with an up-and-coming actress (Wang Shuang), a considerable scandal erupts. Even though they try to deny their feelings, sparks fly as the two equally ambitious people find themselves thrown together by fate. This hilarious romantic comedy brings all the addictive chemistry of the first season into an all-new story. Come back to Hotpot TV each Thursday for new episodes of this smash-hit idol drama.
10. Fall in Love (2019)
Tang Jia Nan

(played by Wang Richards)

is a second-generation millionaire (富二代). He becomes an actor instead of staying at his father's company to train to become the next CEO. In his free time, he likes to meet girls and go on dates with them. Since Feng Ping

(played by Camille Hua)

is different from these girls that will throw themselves at him, she has caught his attention. She works multiple part-time jobs and has no time for his playing or a serious relationship.
Viewer Rating:

8.3


Popularity:

907,000 average watchers
Watch Now
9. Ten Miles of Peach Blossoms (2017)

Starring Yang Mi, Mark Chao, Dilraba Dilmurat, and Vengo Gao. This historical fantasy romance is compelling, beautiful, and raw with emotion. Even with the stunning costumes and cinematography, we've agreed that the most beautiful part is the love story.
The setting takes place after a historical war – a goddess Bai Qian (played by Yang Mi) is sent to the human realm after having sealed a demon lord. She falls in love with a human named Ye Hua, but after a tragic incident, she loses her loving memories of him. Hundreds of years later, Ye Hua finds her again, but she remains indifferent. Will they overcome this trial to find love also?
One thing is definitely guaranteed: you will never be bored of it for a second.
Viewer Rating:

9.1


Popularity:

10,546 average watchers
Watch Now
8. Love O2O (2016)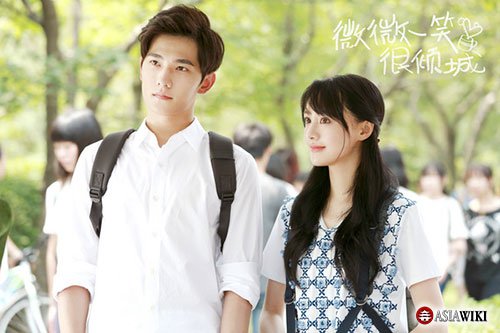 Add caption

Starring Yang Yang, Zheng Shuang, Zhen Ye Cheng, and Rachel Mao. We cannot recommend this drama enough! Love O2O is considered one of the most-watched romance dramas of all time in China, garnering over 24 billion views online nationwide. In this hit series, a gorgeous computer science major, Bei Wei Wei (played by Zheng Shuang), meets a handsome gaming expert Xiao Nai (Yang Yang) through an online fantasy game. He falls in love with her gaming mastery and tries to capture her heart.
Viewer Rating:

8.7


Popularity:

18,670 average watchers
Watch Now
7.

The Rise of Phoenixes (2018)
Starring Chen Kun, Ni Ni, Ni Dahong, and Yitian Hai. Yep, another historical romance! This one's got gorgeous costumes, phenomenal acting, and beautiful sets. Feng Zi Wei (Ni Ni) is an illegitimate daughter who dresses like a man to attend the prestigious Qingming Academy. She meets her lover Ning Yi (Chen Kun) but suddenly turns against him when she mistakenly takes him as her enemy instead! Will their love extinguish or ignite brighter than ever through their struggles? You've gotta watch it to find out.
Viewer Rating:

8.6


Popularity:

2,350 Average Watchers
6. The King's Woman (2017)

This drama will put you under a spell – the on-screen chemistry between Lady Li (Dilraba Dilmurat) and Ying Zheng (Vin Zhang) is undeniable! You'll love this show (as long as you don't mind a little Stockholm Syndrome). In the series, the ruthless emperor Ying Zheng is mesmerized by the beautiful Sun Li and decides to capture her and send her to his palace. He has her captive – but does it mean he can capture her heart too? You gotta watch the show to know!
Viewer Rating:

7.9
__Popularity: __4,212 average watchers
Watch Now
5. When We Were Young (2018)

Starring Zeng ShunXi, Zhang Xue Ying, and Lu Xiao Yu. If you're looking for a high school romance, check out When We Were Young. For an extra boost of nostalgia, this series takes place in the 90s! Yang Xi, a teenage girl, gets injured by a lab explosion that renders her unable to compete in a long-distance run. When school starts, she realizes that the boy behind her misfortune has transferred to her class and taken her position as class president! He is Hua Biao, a hot-blooded and gifted genius. If you're looking for a show that's relatable, heartwarming, and full of attractive characters, be sure to check this one out.
Viewer Rating:

8.7


Popularity:

2,410 average watchers
Sweet Combat is your perfect teen rom-com fix. This drama features plenty of cute moments and action-packed scenes – and the well-casted characters will grow on you! The protagonist Ming Tian (Lu Han), plays a poor student who joins a sports school known for massive scholarship funds. There, he meets a rich heiress of a giant conglomerate (Gabrielle Guan). She is tasked to train Ming Tian, and during the process, they fall in love! If you like a dose of action with your shows, Sweet Combat is your best bet~
Viewer Rating:

7.9


Popularity:

2,864 average watchers
Watch Now

Our beloved goddess, Angelababy, plays a strong female strategist in this historical drama. Bai Ping Ting (Angelababy) and prince-general Chu Bei Jie (Wallace Chung) are from rivaling kingdoms and have to choose between being loyal to their country and their love for each other. This drama is a breath of fresh air if you prefer more balance in power. (The female lead is an intellectual equal with her partner, as opposed to being a more ditzy girl counterpart.)

This drama is seriously mindblowing! If you like a hint of crime drama with your romance, Love Me if You Dare is your best bet. This series will have you sitting at the edge of your seat with both suspense and anticipation. Bo Jinyan (Wallace Huo), a brilliant criminal psychologist, investigates deeply into the criminal mind with his young assistant, Jenny Jian Yao (Sandra Ma). Will Jenny be able to help Simon open up emotionally as they work together to solve crimes?
Viewer Rating:

8.6


Popularity:

13,817
Watch Now

Reasons to get on this show ASAP? Legend of Fuyao has impressive art direction, stellar acting performance, as well as an addicting storyline that'll leave you craving more. Popular actress Yang Mi stars as a leading role Fuyao, an orphan who sets out on a journey to lift a curse that ruins her life. On the way, she meets a Crown Prince (Ethan Ruan) and gradually falls in love as they encounter battles and struggles! Well, what are you waiting for? Start watching!
Viewer Rating:

8.6


Popularity:

5,324